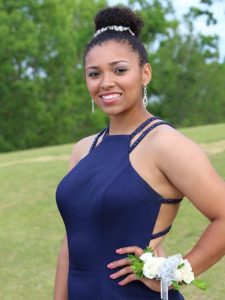 Aniah is the beloved daughter Angela Haley-Harris, who is a Registered Nurse and a sexual assault nurse examiner for abused children. Angela is married to Aniah's stepfather, UFC heavyweight fighter Walt Harris. Aniah's father is Birmingham businessman Elijah Blanchard.
Aniah was born in Northport, AL, on June 22, 2000, and lived in Homewood, Al. She loved her Homewood community! As a high school student Aniah was the captain of her softball team, and known for her leadership and kind spirit towards her opponents. She wore the signature blue jersey, "22". At Homewood, she was awarded the prestigious "Patriot Award" that distinguishes individuals for excellence in exemplary character on and off the field.
She graduated from Homewood High School. It was her love for children that inspired her to major in early childhood education at Southern Union State Community College near Auburn. At the time of her death, Aniah had plans to transfer to Auburn University. She has since received her honorary college diploma from Southern Union College.
Aniah's disappearance in October 2019 garnered national media attention and inspired an intensive search. Widespread support for Aniah was showcased all over the state and nation in the form of baby blue ribbons – representing her favorite color – they were tied to trees, mailboxes, and street signs. They served as a constant reminder of Aniah and a symbol of hope that she would be found safe.
Aniah was taken from the world much too early, but her memory lives on in her hometown and in the hearts of those who knew her. Following her death, Homewood Public Schools established a scholarship in her name, a bench in the town's Patriot Park was dedicated to her honor and December 21st was formally designated by the City of Homewood as Aniah's Day!
In the spirit of her love for others, the organization was founded in memory of Aniah's Heart.